As you know, I'm pretty cynical on this blog when it comes to Valentine's Day. The truth is, though, that I love the holiday! It's something cheerful that breaks up the gloom of winter, and some of the best candy comes out around this time of year.
But, as is usually the case, I find myself single once again during V-Day–a state that some people may consider "sad," but that is certainly not the case with me. In fact, I feel great about being single this Valentine's Day because this year I will be my own Valentine.
That's right! This year, I will be treating myself to some gifts, and I can't wait! I have plans to pick up some wonderfully nerdy items that I have lusting after, and thought I would share some of my gift ideas in case you would like to be your own Valentine this year, too!
So, if you're of the geeky persuasion, and are unsure of what to get, I have a few suggestions I can make. Read on to find out my top geeky picks on what to give yourself:
Unicorn Roses
If you're magical–or just love magical things, I recommend treating yourself to a flower delivery at work this Valentine's Day. What better way to brighten your day than with rainbow roses?
Often known as "unicorn roses," these bold buds have so much cheer and spunk that you'll want to display them for all to see. And they'll bring a smile to your face.
Want real unicorns? Then order yourself this lovely bouquet from ThinkGeek:
Okay, maybe they're not real, but you'll really love them if you're a fan of unicorns!
Dream Outfit from Elhoffer Designs
Creating some of the finest fandom-themed pieces out on the market, Elhoffer Designs has that perfect piece to add to your wardrobe. Some of my favorite items include this magical cloud skirt,  this Star Trek: TNG cardigan, and this Totoro dolman sweater.
Artwork
Sometimes the thing you need is a weird or quirky piece of art to hang up and admire. I've been really into the witchy aesthetic lately, so these prints from the artist Heikala (above) are just the thing I need (and what I will actually be buying myself this year).
Other Valentine's Day appropriate prints can be found over at SuperGroupHug, which are absolutely adorkable!
Because, really, who couldn't use a hug?
Geeky Jewelry
If you've ever seen a piece of jewelry that was so perfect for your nerdy aesthetic, you are certainly not alone. So why deprive yourself? Find that one piece that will make your collection complete and pull the trigger on it this Valentine's Day!
Your New Favorite Clutch from Sent From Mars
Go out on the town in fashionably nerdy style with one of these incredible handmade bags from Sent From Mars. Choose your perfect back based on your fandom of choice, like Harry Potter, Star Wars, Super Mario, and more!
Your New Favorite Enamel Pin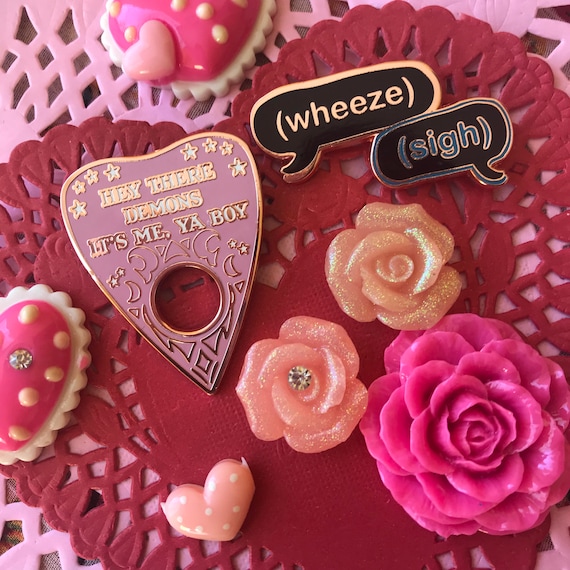 Pins are always a weakness of mine, especially quirky and geeky ones like this set from VeestoriaShoppe. I actually bought one of her pins for me and a bestie recently, and they're amazing quality.
Other great options include gems like sweetandlovely by Kate Gabrielle, who specializes in great girl power pins, and lots of Jurassic Park-themed pieces.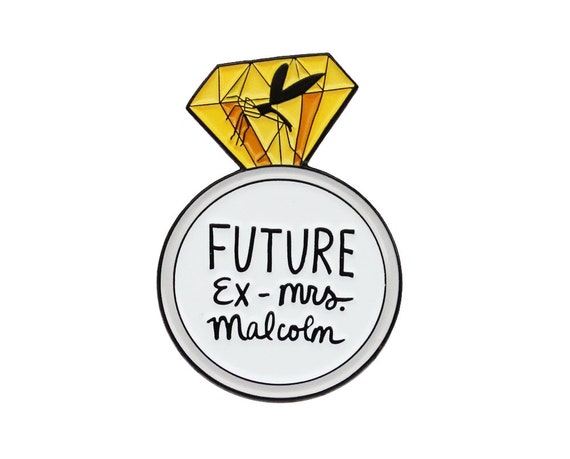 And speaking of Jurassic Park…
Sexy Jeff Goldblum Funko Pop! Vinyl
Coming to Target supposedly this month, the "Wounded Dr. Ian Malcolm" Funko Pop! Vinyl is the figurine I never knew I needed. Perfect for dates, a work companion, your spotter at the gym, and your movie night buddy. You never have to feed him, woo him, or keep him entertained, and he only has eyes for you–as long as you position him in your direction.
What are you planning on getting you–or your actual Valentine–this year? Anything from this list call to you? What was your favorite item? Let me know in the comments below so we can nerd out together!
Also, check out this fun DIY to create super nerdy (and funny) valentines, and keep an eye out for another Valentine's Day-themed post later this week!
Life was meant to be lived nerdily, so what are you waiting for?