If you're planning on doing some shopping this week for the upcoming holiday season, you're probably aware of Black Friday deals. But did you know that there's another major shopping day happening this week as well? That's right, we get to indulge in Small Business Saturday!
If you don't know what Small Business Saturday is, it's a day sponsored by American Express where small, independent shops get recognized. Consumers are encouraged to support their favorite local and indie brands to help boost their sales and keep unique shops around, who are often overshadowed by big box stores.
With the holiday season fast approaching, it's easy for most to overlook small businesses with the hustle and bustle of shopping. However, many of these shoppers don't realize the value, uniqueness, and quality that they can receive from the products and services that indie brands provide.
So, in preparation for Small Business Saturday, I wanted to showcase 5 amazing nerdy indie brands that I love, and I'm sure you'll enjoy, too! Finding the perfect gift for your friends and family doesn't have to be difficult, and you're sure to find a unique item from one of these vendors below.
1) Jordandené
As many of you know—especially if you follow me on Instagram—Jordandené is one of my favorite brands. Not only do Jordan and her team create amazing screen printed, unisex shirts, they're also totally nerdy. With quotes from Star Wars, Wonder Woman, Disney, Harry Potter, and more, there's a shirt for everyone's favorite fandom.
Not big into tees? No biggie! Jordandené also offers nerdy tank tops, undies, aprons, journals, mugs, phone cases, enamel pins, and hats, all featuring your favorite fandom quotes.
2) Espionage Cosmetics
When you want to mix nerdiness and beauty, look no further than Espionage Cosmetics. Masters of the perfect fandom-themed eyeshadows, nail wraps, and more, Espionage Cosmetics has the perfect products to help you flaunt your nerdy nature every day!
Stock up on these beauties for the perfect stocking stuffers, and sign up for their Rewards Points program to earn coupons simply by shopping!
3) Sparkle! Designs
Each year during convention season, I always visit Sparkle! Designs's booth to pick up a unique, handmade necklace. Each one has a nerdy quote and charms on them, and depending on my mood, I represent the various fandoms I love. They're cute, understated, and exceptionally well-made.
Sparkle! Designs is fandom-inclusive, and features quotes and designs based on many different fandoms from Harry Potter, Lord of the Rings, Sherlock, Disney, Star Wars, Star Trek, and more! And they don't limit themselves to making only necklaces, as their product line is pretty vast.
I highly recommend this shop if you're trying to find something perfectly nerdy yet understated.
4) Zainey Laney Wax
If you've been around this blog for some time, then you're sure to know Zainey Laney. She's the admin for the Geeks & Beauties Facebook group, and YouTuber. She's also now a small business owner, and has her very own subscription box!
Zainey Laney Wax provides nerd-themed wax melts featuring scents based off of fandoms like Stranger Things, The Walking Dead, and Harry Potter. She currently has a holiday-themed advent calendar box for December, and concocts the most amazing scents.
Also available are individual clamshells and stocking stuffer scents. I personally recommend "Barb" and "Pumpkin Pasty."
Here's an extra treat: use code "NERDILY10" for a 10% discount over on her website! Additionally, they're having a Black Friday sell from now until Nov. 27th. Use code "ZAINEYTHANKS17" for a free clamshell of wax with any purchase of $15 or more.
5) Femme de Bloom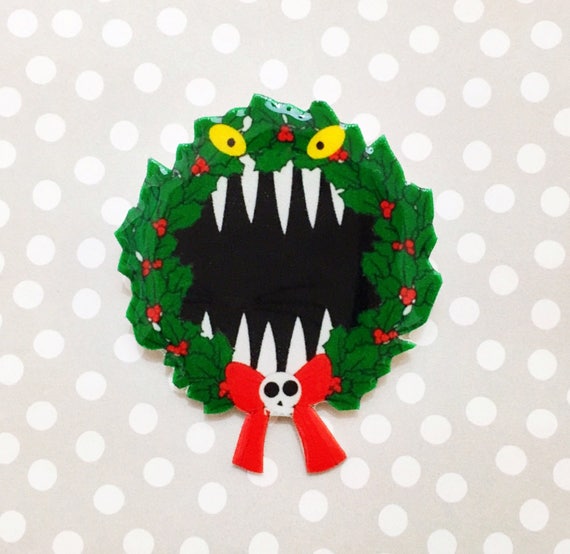 This little Etsy store is a Disney fan's dream come true! Featuring handmade and vintage brooches, earrings, and necklaces, Femme de Bloom boasts an inventory filled with goodies for all seasons and holidays. My personal favorite is the Nightmare Before Christmas wreath brooch.
So, where will you shop this Small Business Saturday? Do you have a favorite indie brand that you love to support? Let me know down in the comments below!
If you need more inspiration for great places to shop, check out my Gift Guide for more great small businesses.
Happy Thanksgiving, Nerds!
Life was meant to be lived nerdily, so what are you waiting for?