For many, Valentine's Day can be a tough day to handle. With so much emphasis on finding true love of having something magical happen puts quite a bit of pressure on single people. In the eyes of many, single people seem sad, lonely, and/or pathetic on Valentine's Day. Whether or not this is true depends on the individual, but either way, singles get a bad rap on V-Day. With years of experience being single, I've found ways to create the illusion that everything is fine and dandy on this special day, and I'm here to share my wisdom with all of you.
Here is my comprehensive guide to appear less sad on Valentine's Day:
Tip #1: Wear cheerful Valentine's Day garb
If you look like you're enjoying the day, no one will detect your sadness.
Tip #2: Send yourself flowers
Address the flowers to yourself, make them out from your "Office Secret Admirer," and have them delivered to where you work. Who's going to argue with you on that?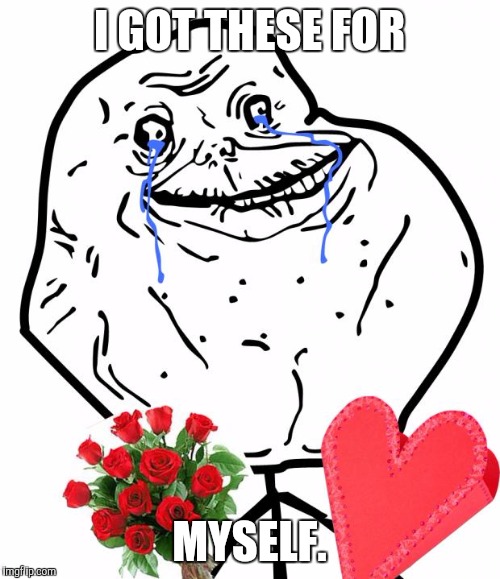 Tip #3: Showcase your lovely V-Day meal on social media
Instagram has a wealth of gorgeous meal photos to admire. Simply save one of those suckers and show your friend what a kick-ass meal you're having.
Tip #4: Stay away from sad love songs
By any means necessary, stay away from these songs:
"Everybody Hurts"–Radiohead
"I Want to Know What Love Is"–Foreigner
"Love Hurts"–Nazareth
"Someone Like You"–Adele
"Turn Back Time"–Cher
"The Winner Takes it All"–ABBA
"Careless Whisper"–Wham! ft. George Michael
"Love Stinks"–J Geils Band
"Broken"–Seether ft. Amy Lee
"It Must Have Been Love"–Roxette
"The Flame"–Cheap Trick
You know what? Just stay away from any love song on Valentine's Day. Don't turn on the radio, don't open any links with YouTube videos in it. Just…don't.
Tip #5: Carpool Lane Rules Apply
You know how you can sometimes get away with using a mannequin or life-size doll in your car so you can drive in the carpool lane? Well, on Valentine's Day, same principles apply. If others are given a glimpse, their minds will make out the rest. Don't have the funds to get a mannequin or giant doll, a cardboard cutout will do in a pinch.
Tip #6: Don't Trust "Drunk Me"
Some of us think that drinking on Valentine's Day will help their sorrows, but if your drunk self is untrustworthy, it might be best to stay away from the liquor that day. You never know what you might say or do.
Tip #7: Have an Alibi
If your coupled friends ask you what your plans are for Valentine's Day, make sure you have a solid alibi that will convince them of how NOT sad you are.
Tip #8: Learn to appreciate time on your own
The best company you can keep on Valentine's Day is your own company.
Tip #9: Cry your sadness out beforehand
And remember: no one can see you cry in the shower.
Tip #10: Denial
When your coupled friends ask if you're going to be okay today, denial is the best route to go. Is it goo for your mental health? Probably not. But your pride will still be intact.
How are you coping with Valentine's Day today? Are you doing anything fun? What are some of your tips? Let me know in the comments below! And I hope you all have a happy and fun Valentine's Day!
Life was meant to be lived nerdily, so what are you waiting for? 
Other great Valentine's Day posts:
Hey Girl, Make Some Valentines
How Your Valentine's Day Might Go Down in 10 Gifs
Alibi Mad Libs: Valentine's Day Edition
Funday Friday: Valentine's Day Edition